What is 22 Nosler ammo?🤔
It is a type of rifle cartridge designed by Nosler Inc., an American ammunition manufacturer. It was introduced in early 2017 and is meant to provide higher performance than other .22 caliber cartridges, particularly in terms of velocity and energy. The cartridge is primarily intended for use in AR-15-style rifles, offering greater velocity and energy compared to the standard .223 Remington or 5.56x45mm NATO cartridges commonly used in these rifles.
Features📚
❇️ Increased Velocity and Energy: One of the primary features of the .22 Nosler cartridge is its higher velocity and energy compared to other .22 caliber cartridges. This increased velocity can result in flatter trajectories and better performance at longer distances.
❇️ Flatter Trajectories: The higher velocity allows for flatter trajectories, which means the bullet will drop less over a given distance compared to cartridges with lower velocities. This can be advantageous for precision shooting and long-range engagements.
❇️ Terminal Performance: The increased velocity and energy of this cartridge can potentially result in improved terminal ballistics, meaning the bullet may expand and transfer energy more effectively upon impact, leading to better-stopping power.
❇️ Long-Range Shooting: The combination of higher velocity, flatter trajectories, and potential terminal performance improvements makes the .22 Nosler suitable for long-range shooting applications where accuracy and energy retention are crucial.
Our Top Pick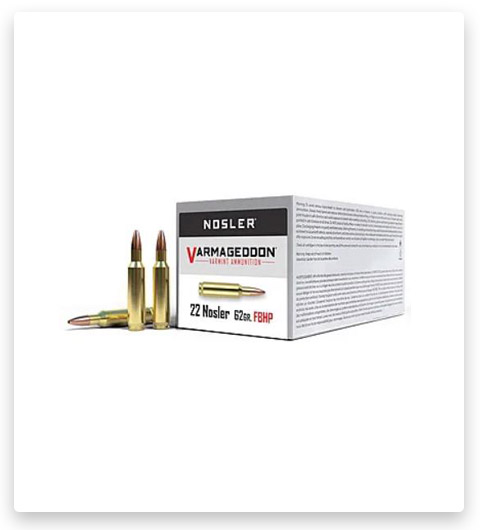 22 Nosler – Nosler Varmageddon – 62 Grain – 50 Rounds
Designed with meticulous attention to detail, these products cater to the discerning varmint hunter who values performance above all else. At the heart of the Varmageddon line is a carefully crafted bullet featuring a polymer tip or hollow point, seamlessly integrated with a flat base design. This synergy of elements ensures exceptional accuracy, making every shot count in the world of varmint hunting. Necks are meticulously sized, chamfered, and trued to perfection. Flash holes are scrutinized for precise alignment, laying the foundation for consistent and reliable performance. A final touch of visual inspection and polishing ensures that finished rounds meet the high standards expected by varmint hunters who demand nothing short of excellence.
Buy Now On OpticsPlanet
If you click this link and make a purchase, we earn a commission at no additional cost to you.
Benefits🤩
The .22 Nosler ammunition offers several potential benefits for shooters and hunters, especially those who are searching for enhanced performance in their firearms. Some of the advantages include:
⭐️ The combination of higher velocity and flatter trajectories extends the effective range of this cartridge. Shooters can engage targets accurately at greater distances, making them suitable for long-range target shooting and varmint hunting.
⭐️ It can be used for a variety of purposes, including target shooting, varmint hunting, and potentially hunting medium-sized game. Its enhanced performance makes it a versatile choice for different shooting activities.
⭐️ The .22 Nosler cartridge is designed to work with AR-15-style rifles, allowing shooters to take advantage of its benefits while using a familiar and popular firearm platform.
⭐️ The combination of increased velocity and flatter trajectories can contribute to improved accuracy, especially at longer distances. This can be appealing to competitive shooters and precision marksmen.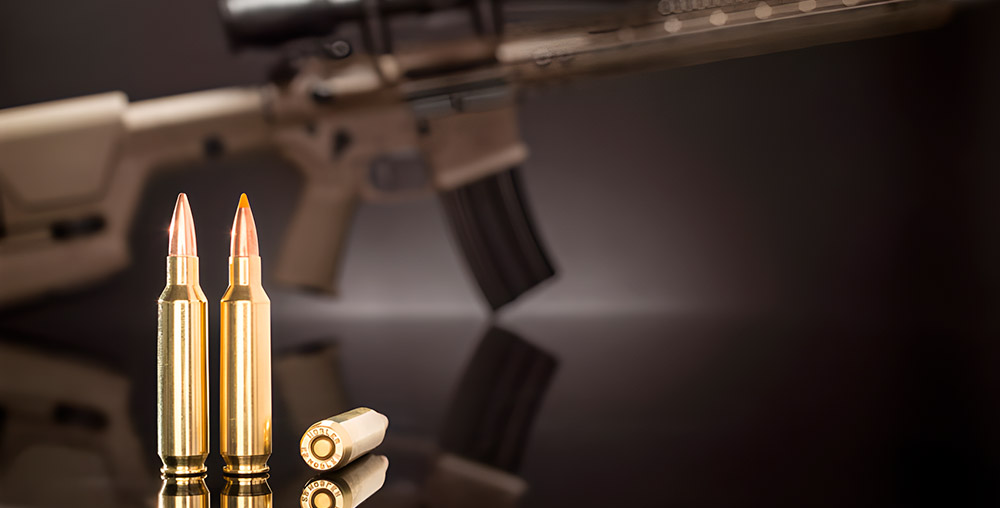 What velocity of it?💥
When it comes to the performance of .22 Nosler ammunition, one key aspect that has caught our attention is its velocity. We understand that velocity plays a crucial role in determining how a cartridge behaves in various shooting scenarios. So, let's delve into what you can expect in terms of speed from this ammunition.
☑️ With a 55-grain bullet, you're looking at a velocity range hovering between a brisk 3,500 to 3,700 feet per second (fps). This delivers a noteworthy punch and could potentially cater to a variety of shooting preferences.
☑️ Stepping up to a slightly heavier bullet, the 64-grain option maintains an impressive velocity range, typically falling between 3,300 to 3,500 fps. This provides a balance between speed and stability, which could be a boon for shooters looking to achieve accuracy and energy transfer.
📌 Now, it's important to remember that these velocity ranges are approximations. Your actual results might vary based on factors like bullet weight, propellant type, and barrel length. It's also worth noting that advancements in ammunition technology could potentially lead to even more refined velocity ranges.
Best 22 Nosler Ammo Reviews
1# 22 Nosler – Nosler match grade – 85 Grain – 20 Rounds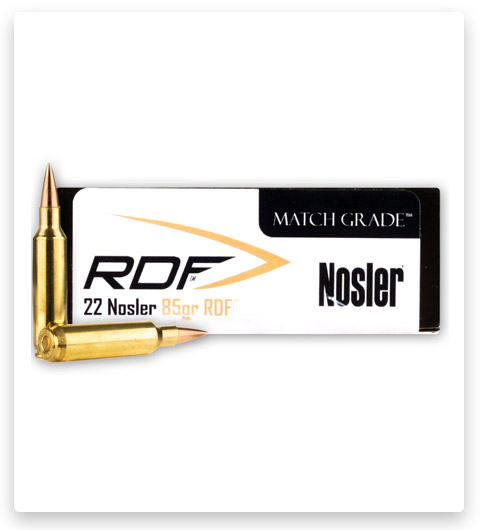 Nosler's Match Grade 22 Nosler is a high-performance round that is ideal for competition shooting. The 85-grain RDF bullet is designed for exceptional accuracy and flatness of trajectory. Because of our knowledge gained through practice, the hollow point boat tail design reduces drag and preserves velocity over long distances. This makes the 22 Nosler an excellent choice for any competitive shooter looking for an edge. Don't miss the opportunity to get an excellent performance – order this ammo just now!
2# 22 Nosler – Nosler Varmageddon – 53 Grain – 20 Rounds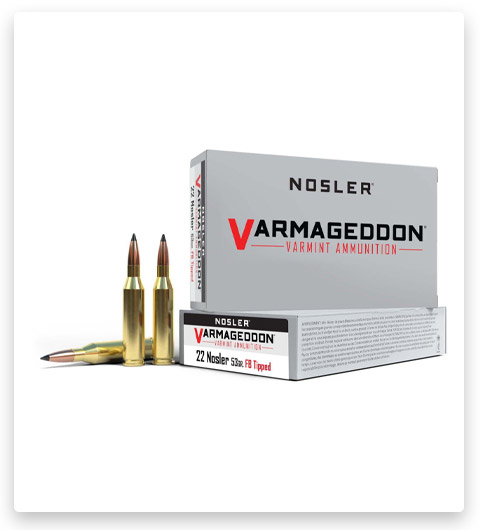 Searching for the perfect ammunition for your high-volume varmint hunting? Look no further than Nosler's Varmageddon line of loaded ammunition and component bullets. Featuring a highly accurate polymer tip or hollow point combined with a flat base design, Varmageddon products are sure to provide the utmost precision for even the most demanding hunter. Loaded with Nosler brass, Varmageddon ammunition provides the highest levels of performance, making it a perfect choice for the discerning varmint hunter. Try it today!
3# 22 Nosler – Nosler Ballistic Tip – 55 Grain  – 20 Rounds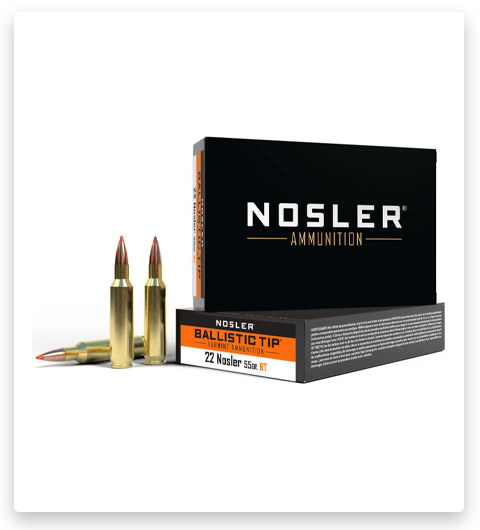 The Nosler Ballistic Tip Varmint bullet is designed for high-velocity loads, yet still delivers excellent accuracy at lower velocities. This makes it ideal for varmint hunting in a wide range of conditions. After we tested it in practice the tough construction of the bullet ensures superior penetration and consistent expansion, while the aerodynamic design provides stable flight and superb long-range accuracy. Whether you are shooting at fast-moving predators or small varmints at long range, Nosler Ballistic Tip Varmint bullets will give you the performance you need for a successful hunt.
4# 22 Nosler – Nosler Match Grade – 70 Grain – 20 Rounds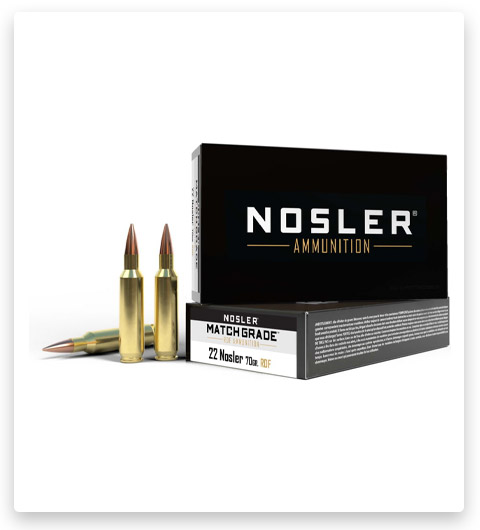 Need the perfect ammunition for your next hunt or competition? Nosler Match Grade ammunition is the answer. This top-of-the-line ammo features the highest level of quality control, making it the most consistent and reliable choice for serious shooters. As a result of using this product, we found that every piece of brass in Nosler Match Grade ammo is checked for correct length, neck size, chamfered, and trued, and flash holes are checked for proper alignment. This attention to detail ensures that every round is as accurate and precise as possible.
5# 22 Nosler – Nosler Varmageddon – 62 Grain – 50 Rounds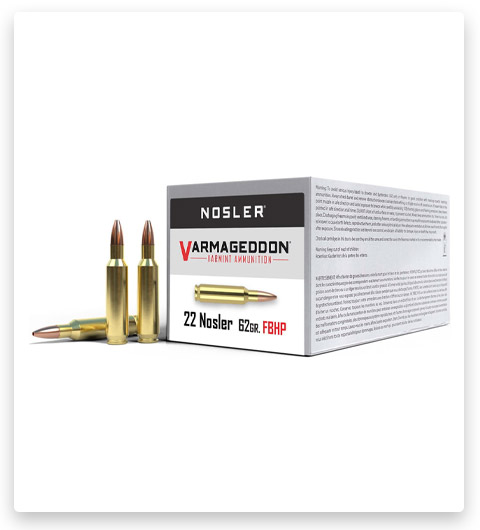 Introducing the Nosler Varmageddon line of loaded ammunition and component bullets. Featuring a highly accurate polymer tip or hollow point combined with a flat base design, Varmageddon products were created for the high-volume varmint shooter who requires the utmost precision. Loaded with Nosler brass, Varmageddon ammunition provides the highest levels of performance for any varmint hunter. With a muzzle velocity of 3250 ft/s and muzzle energy of 1454 ft-lbs, this .22 Nosler Flat Base Hollow Point 62 grain Brass Cased Rifle Ammunition is ideal for taking down varmints quickly and efficiently. The FBHP bullet design provides exceptional accuracy, while the brass casing ensures reliable performance. Get 50 rounds of this top-quality ammunition in a box for your next varmint hunting trip.
6# 22 Nosler – Nosler Match Grade – 85 Grain – 20 Rounds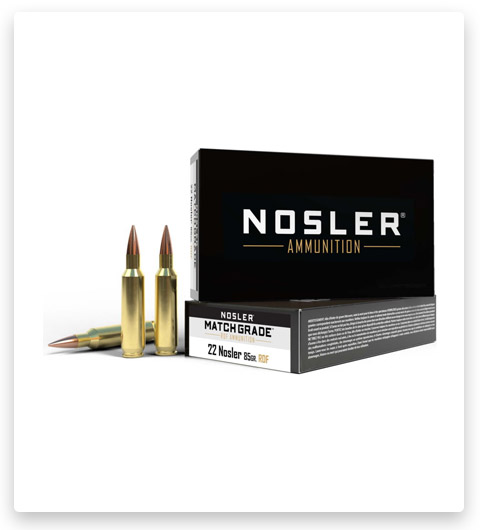 Nosler Match Grade Ammunition is the result of Nosler's commitment to quality and consistency. Each piece of brass is checked for correct length, neck sized, chamfered, and trued, and flash holes are checked for proper alignment. Based on our observations powder charges are meticulously weighed and finished rounds are visually inspected and polished. Match Grade ammunition uses Nosler brass and Nosler bullets to attain optimum performance. The Custom Competition bullet is designed for competition shooters who demand the highest level of accuracy and consistency.
7# 22 Nosler – Nosler Varmageddon – 35 Grain – 20 Rounds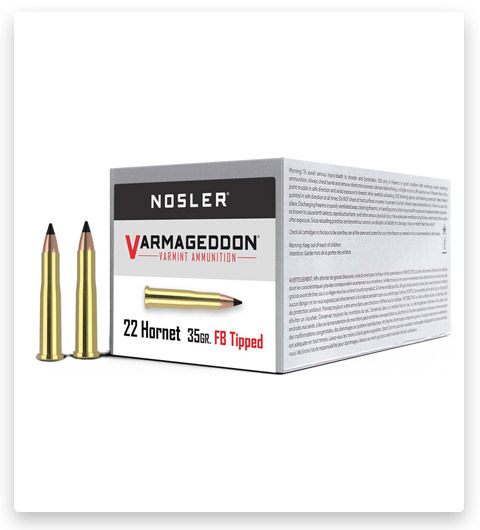 Those demanding ammunition specifically for varmints turns to Nosler Varmageddon Centerfire Rifle Ammunition. This ammunition includes a polymer hollow point or tip that is highly accurate and combines with the flat base design for improved accuracy. The ammunition includes Nosler brass and offers a high-performance combination of bullet and powder. As expected from Nosler ammunition each round is perfect as they are each visually inspected and precise measurements are taken including the length of the case and the weight of the powder charge. The result is a dependable, consistent performance that varmint hunters can count on shot after shot.
8#  22 Nosler – Nosler Match Grade – 77 Grain – 20 Rounds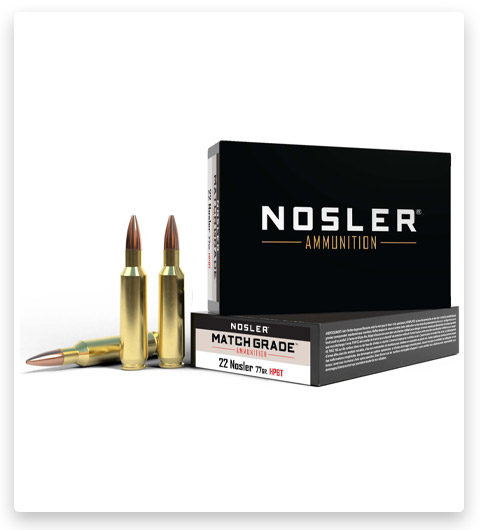 Introducing the 22 Nosler, the most powerful .22 caliber cartridge available for the AR-15 platform. This high-performance cartridge is designed to deliver lightning-fast speed and hard-hitting performance, making it the perfect choice for serious shooters who want the very best. According to our experience, the 22 Nosler's case design takes advantage of the AR-15's modularity, making the conversion from a standard 223 Remington/5.56 NATO to the 22 Nosler simple and easy. With only a two-step retrofit, shooters can experience the 22 Nosler's exceptional performance without having to replace their existing bolt carrier group.
9# 22 Nosler – Nosler Trophy Grade – 70 Grain – 20 Rounds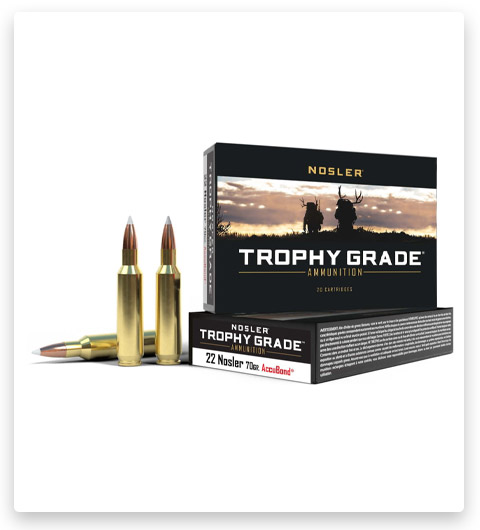 Nosler's Trophy Grade Ammunition brings its unsurpassed quality standards in accuracy and consistency directly to the shelf of your favorite gunshop or outdoor retailer. This .22 Nosler ammunition is loaded with an AccuBond 70 Grain Spitzer Bullet, making it the perfect choice for hunting a variety of games. Our findings show that the Nosler ballistics team is the driving force behind Nosler Trophy Grade Ammunition. Their dedication to precision reloading data makes this ammunition a great choice for any hunter or shooter. Whether you want your ammunition loaded with AccuBond, Partition, or E-Tip, Nosler Trophy Grade Ammunition has the right load for the right game.
10# 22 Nosler – Nosler Ammunition – 55 Grain HPBT – 20 Rounds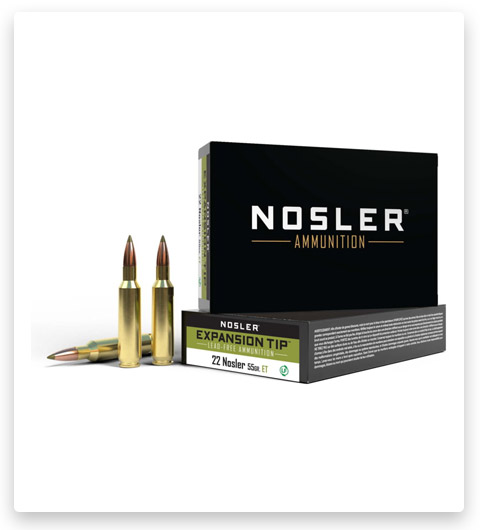 Nosler E-Tip ammunition is the answer for all those shooters who need a lead-free round that is just as effective – if not more so – reliable than their lead-core counterparts. The .22 E-Tip bullet provides the same stopping power and peerless penetration as Nosler's popular lead-core bullets while offering one-shot loading and extreme long-range performance from a bottleneck-type bullet. The bullet's boat-tail design and the Energy Expansion Cavity provide the core with the copper alloy base which supports controlled expansion over the full velocity range of the 22 LR. Upon impact, the E Cavity provides immediate and uniform expansion yet retains 95% weight for improved penetration. This makes the Nosler E-Tip ammunition an excellent choice for hunters and target shooters alike who are looking for superior performance without having to worry about lead exposure.
Reloading: basic steps🧑‍🔧
Reloading .22 Nosler ammunition involves handloading your cartridges using specialized components and equipment. Here are the basic steps involved in this process:
➡️ Gather Components: 22 Nosler brass cases, primers (appropriate for your load), powder (appropriate for your load), and bullets (appropriate for your shooting or hunting needs).
➡️ Inspect and Prep Brass: Inspect the brass cases for defects, cracks, or signs of wear. Clean the brass using a tumbler or other cleaning methods. Resize and de-prime the brass using appropriate dies.
➡️ Priming: Insert a primer into the priming station of your reloading press.
➡️ Powder Charging: Consult a reliable reloading manual or data source for recommended powder charges for .22 Nosler loads. Use a powder measure to carefully dispense the correct amount of powder into each case.
➡️ Bullet Seating: Select the appropriate bullet type and weight for your intended use. Seat the bullet to the desired depth using a seating die. Make sure the overall cartridge length (COL) complies with safe specifications.
➡️ Crimping (if applicable): For certain loads, crimping the bullet into the case mouth may be necessary to prevent bullet setbacks during feeding.
➡️ Final Inspection: Inspect each reloaded cartridge for defects, proper seating, and overall quality.
➡️ Testing: Begin with conservative loads and work your way up while monitoring for signs of pressure or other issues. Test your reloaded ammunition at the range to ensure proper function and accuracy.
🛑 Important considerations when reloading:🛑
✔️ Reloading Manual: Always refer to a reputable reloading manual or trusted online data source for accurate load data. Start with the minimum recommended loads and work your way up cautiously while monitoring for pressure signs.
✔️ Equipment: Use appropriate reloading equipment, including dies, press, scales, and powder measures, to ensure safe and consistent reloading.
✔️ Safety: Follow all recommended safety precautions when reloading. Double-check powder charges, ensure proper primer seating, and inspect cases for defects.
✔️ Case Length: Regularly trim your brass cases to the specified length to maintain consistent chambering and accuracy.
✔️ Consistency: Maintain consistent reloading practices to ensure uniformity in your reloaded cartridges.
✔️ Legal Considerations: Be aware of local laws and regulations regarding ammunition reloading and possession.
FAQ🤓
Conclusion🙂
In conclusion, the .22 Nosler is a remarkable cartridge that marries tradition and innovation, honoring its lineage to the .223 Remington while setting new standards in ballistic performance. In this article, we've looked at some of the best ammo on the market and shared our top picks with you. We hope you found it helpful! 🤠👍
Affiliate Disclosure: Rotorm.com sometimes gets paid for listings, through sponsors or affiliate programs like Amazon, Optics Planet, Lucky Gunner, Brownells, Cabelas, Rainier Arms, 5.11 Tactical, Bass Pro Shop, etс. Clicking a link helps keep Rotorm.com free, at no extra cost to you!
About the author: Each article on our site is written by experts in survival and tactical equipment, gun enthusiasts, extreme travelers, military, law enforcement and desperate professionals, read about the author at the bottom of the article or visit "About Us" page.
Note: The views and opinions expressed in this article are those of the authors and do not necessarily reflect the official policy or position of any agency.