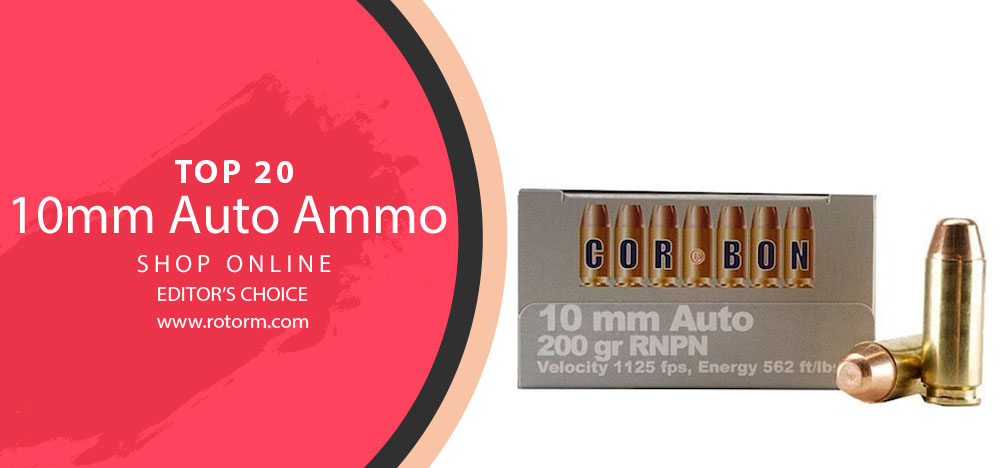 What is 10mm Auto Ammo? 🧐
It is often referred to as the "10mm Auto" or "10mm," and is a formidable cartridge with a cult-like following among shooters worldwide. It was developed in the 1980s by the one and only Jeff Cooper, who envisioned a high-powered round that strikes the perfect balance between velocity, energy, and manageable recoil. The result? A true powerhouse of ammunition that packs a serious punch!
 Composition 🔎
Bullet: The heart and soul of any cartridge, the bullet comes in various designs, from a full metal jacket (FMJ) for target shooting to hollow points (HP) for self-defence purposes.
Primer: Nestled within the base, the primer serves as the ignition source, initiating the propellant combustion upon striking.
Case: Usually made of brass, the cartridge case holds everything together, ensuring a smooth chambering and ejection process.
Powder: The driving force behind the bullet's velocity, the powder undergoes controlled burning to generate the energy required to propel the bullet forward.
 Features
✴️ This ammo is characterized by several distinctive features that make it a favoured choice among some hunters and self-defence practitioners. Its chief characteristic is the high velocity it offers, clocking in considerably faster than its .45 ACP counterpart. This increased speed results in a flatter trajectory, bolstering accuracy over longer distances. This makes it particularly suitable for hunting medium-sized games and for long-range target shooting.
✴️ It also provides a substantial amount of stopping power due to its high kinetic energy – a boon in self-defence situations. This is achieved without significant loss of accuracy or control, although it does produce a higher recoil than some other handgun calibres.
✴️ Additionally, the Auto's versatility is noteworthy; it can handle a wide range of bullet weights and styles, enabling customization for specific uses. Whether for hunting, self-defence, or target shooting, this ammo can be configured to meet diverse shooting requirements.
 Advantages 🔥
💠 Power: It is a very powerful cartridge, with more energy than the .45 ACP, .40 S&W, and 9mm Luger. This makes it a good choice for self-defence, hunting, and law enforcement applications.
💠Range: This ammo has a good range of performance, making it versatile for a variety of shooting applications. It can be loaded with a variety of bullets, including a full metal jacket, hollow point, and soft point, to optimize performance for different situations.
💠 Penetration: It has good penetration, making it a good choice for self-defence against dangerous animals or criminals. It can penetrate through heavy clothing and bone, making it more likely to stop an attacker.
💠 Recoil: The recoil can be more than some shooters are comfortable with. However, there are a variety of 10mm Auto pistols available that are designed to reduce recoil, making it a more manageable cartridge for some shooters.
Our Top Pick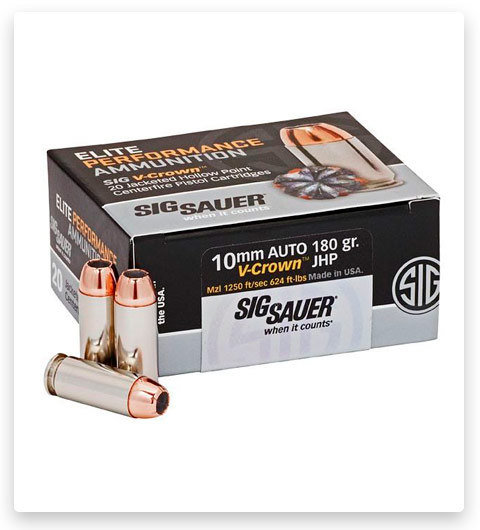 Sig Sauer Elite V-Crown 10mm Auto Ammo
SIG V-Crown cartridges are designed with various features such as low-flash propellant and cannelured shank, which help to retain maximum weight and provide reliable ballistic performance. These cartridges also ensure a consistent V-shaped main cavity and deep narrow trail with excellent weight retention, maximum expansion, and optimal penetration depth. The muzzle energy output is 624 ft-lb.
Buy Now On OpticsPlanet
If you click this link and make a purchase, we earn a commission at no additional cost to you.
10mm Auto Ammo Review | Best 10mm Auto Ammo
#1 CCI Blazer Aluminum 10mm Auto Ammo 200 grain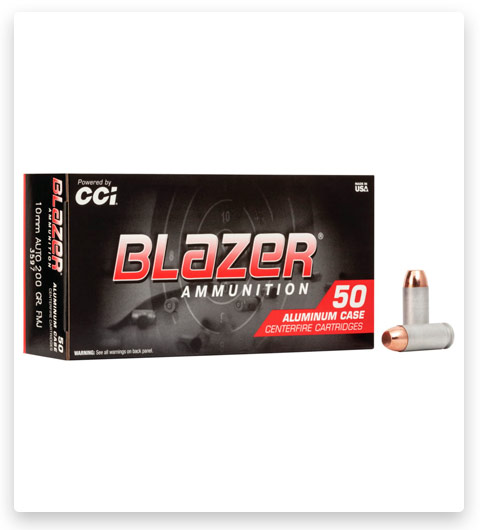 The CCI Ammunition has crafted this 10mm Auto Ammunition with meticulous attention to detail, ensuring consistent quality and reliable performance. With a focus on creating rounds perfect for training exercises, this ammo is designed to deliver a seamless shooting experience at the range.  The ammunition is constructed using premium bullets and priming, a testament to their commitment to delivering top-notch performance. Each round is loaded in boxer-primed cases, providing shooters with consistent quality and reliable action, shot after shot. Ammo is an excellent choice for shooters seeking to maximize their range time without breaking the bank. Its affordability allows for more practice opportunities without compromising on quality.
#2 Sig Sauer Elite V-Crown 10mm Auto Ammo 180 grain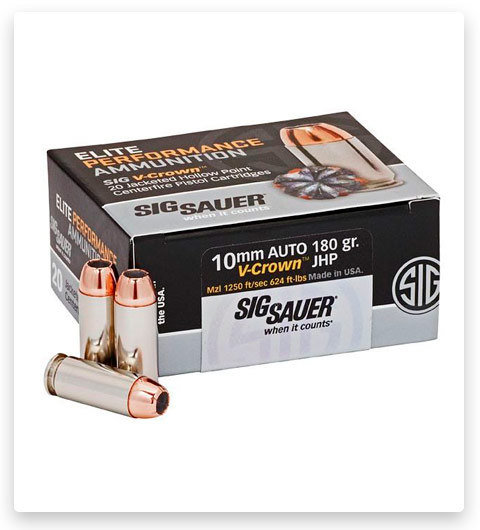 The Sig V-Crown ammunition proves itself as a true powerhouse when it comes to precision shooting. It's low-flash propellant and cannelured shank are just some of the features that contribute to its exceptional performance. With its consistent V-shaped main cavity and impressive weight retention, this ammunition is a reliable choice for shooters seeking consistent, reliable ballistic performance. Whether you're honing your skills on the range or preparing for self-defence situations, the Sig V-Crown ammunition is sure to impress with its precision and power.
#3 CCI Blazer Brass 10mm Auto Ammo 180 grain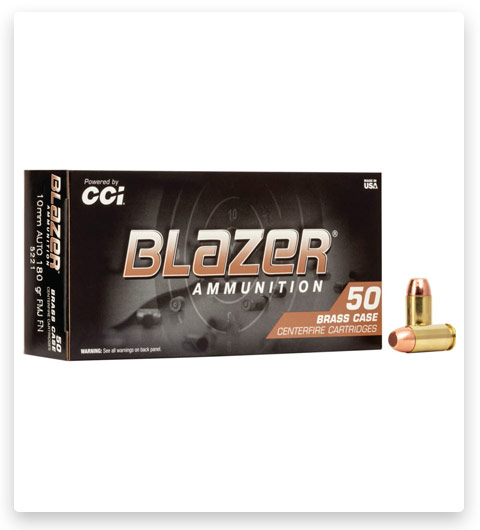 The CCI Blazer Brass 10mm Auto Ammunition is an excellent choice for shooters seeking a cost-effective and reliable solution for precision target practice. Its reloadable brass cases and reliable primers enable shooters to recycle spent casings, stretching your shooting budget even further. The clean-burning propellants ensure a cleaner shooting experience, while the 180-grain Full Metal Jacket bullets deliver consistent accuracy for honing your skills on the range. Whether you're a seasoned shooter or a beginner, this ammunition is sure to enhance your shooting sessions without breaking the bank.
#4 Sig Sauer Value Packs 10mm Auto Ammo 180 grain
 Sig has gone the extra mile in crafting these practice and competition rounds with meticulous attention to detail. The result? A reliable and accurate performance you can count on every time you hit the range. One of the coolest things about this ammo is how it matches Sig V-Crown ballistics. So, when it's time to switch from practice to carrying ammunition, you won't feel any jarring differences in handling. It's all about that smooth transition, enhancing your confidence when it matters most. It's no secret that premium ammunition can be pricey, but Sig ammo breaks the mould.
You get top-notch performance without having to empty your wallet, making it an excellent choice for those looking to balance quality and affordability. It didn't cut any corners with the primers and propellants used in these rounds. The clean-burning propellants ensure a cleaner shooting experience, while the dependable primers contribute to consistent ignition and reliability. We put these copper-jacketed bullets through their paces, and they held up remarkably well on impact. No fragmentation or deformities, just consistent point-of-impact, recoil, and energy level.
#5 Winchester USA WHITE BOX 10mm Auto Ammo 180 grain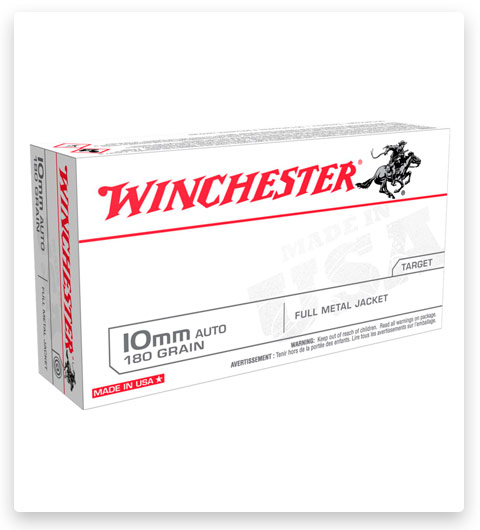 Introducing the time-honoured Winchester USA White Box ammunition, a name synonymous with legendary excellence, delivering unwavering performance and remarkable value to hunters and shooters alike. This 10mm Auto cartridge, adorned with a robust 180-grain Full Metal Jacket bullet, is your perfect companion for recreational shooting and precise target practice. This ammunition is your trusted ally when it comes to hitting the mark consistently. Say goodbye to worries about inconsistent shots; this Winchester load has got you covered. Enjoy smooth and positive functioning with no expansion, thanks to the reliable Full Metal Jacket design. It ensures your shooting experience remains flawless and hassle-free. Based on our experience this ammunition offers nothing short of excellence. Whether you're an experienced shooter or a novice just stepping into the world of firearms, this ammo will be your faithful companion.
#6 Federal Premium Centerfire Handgun 10mm Auto Ammo 180 grain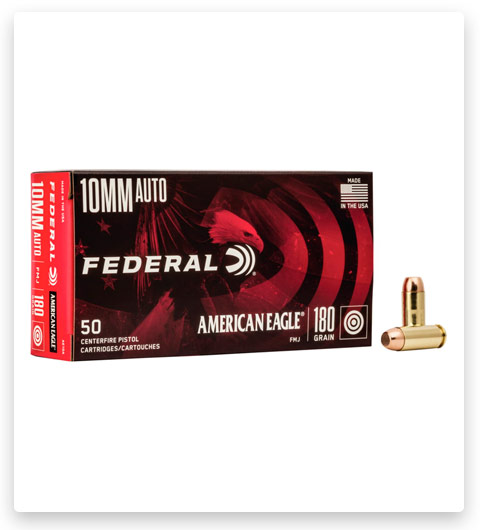 Are you seeking top-quality ammunition to boost your performance in various shooting sports? Look no further than Federal American Eagle 10mm Auto Full Metal Jacket Centerfire Pistol Ammunition. Crafted with precision and using quality materials, this ammo is designed to be your reliable partner on the shooting range. This product is a reliable choice for those seeking accuracy and consistent performance on the shooting range. With a variety of bullet styles available and Federal's commitment to quality, this ammunition lives up to its reputation. However, potential buyers should be aware of the Proposition 65 warning and consider their shooting needs before making a decision.
#7 Sig Sauer Elite Performance 10mm Auto Ammo 180 grain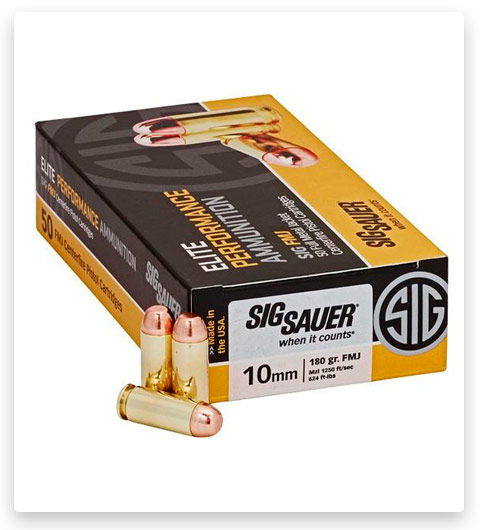 The Sig Ammunition is designed to provide shooters with a reliable and cost-effective option for practice and competition rounds. Engineered with precision and adherence to strict standards, this ammunition ensures consistent accuracy, making it an excellent choice for transitioning from practice to carry ammunition seamlessly. It boasts matching ballistics to the Sig V-Crown defence rounds, delivering premium-level performance at an affordable price. Overall, this ammunition measures up well for its intended purposes and provides a viable option for those looking to improve their shooting skills without breaking the bank.
#8 Hornady Critical Duty 10mm Auto Ammo 175 Grain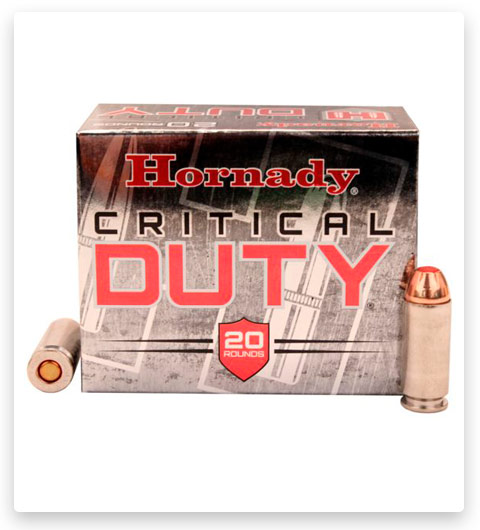 The Hornady FlexLock Bullets combine two innovative features from Hornady: the Flex Tip design, which prevents clogging, and the InterLock band, a heavy-duty jacket-to-core technology. These bullets are crafted to maximize weight retention and deliver exceptional terminal performance across various FBI test barriers. The high-antimony lead core ensures toughness and controlled expansion, providing consistent performance through different barriers. The Hornady ammo remains a compelling choice for those seeking reliable performance in real-world scenarios.
#9 Ammo Inc. Signature 10mm Auto Ammo 180 grain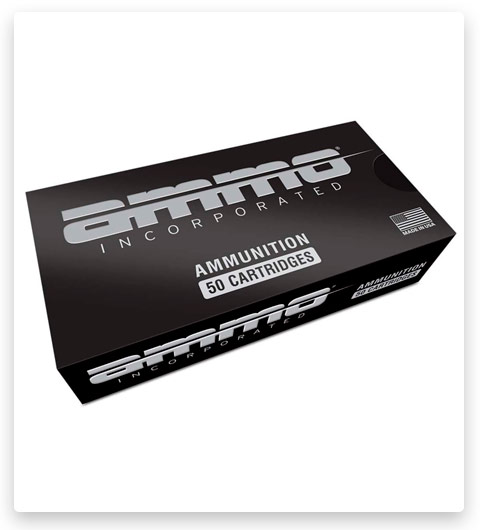 Today, we're putting the Ammo, Inc. Signature Target Shooting Line's 10mm FMJ under the microscope. Whether you're a passionate range enthusiast or just enjoy a casual plinking session every now and then, having top-notch ammo is crucial for getting the best out of your firearm. So, let's dive in and see what this ammo has to offer! This ammo boasts impressive ballistics, ensuring your shots hit the mark with precision and consistency. We've been impressed by its accuracy so far. Finding the right balance between velocity and recoil is essential for a smooth shooting experience. This ammo manages to strike that balance quite well, making it pleasant to shoot, even during extended-range sessions. Now, here's something every shooter loves – Hyperclean Technology. It not only helps maintain the firearm's cleanliness but also allows us to shoot more before needing to clean the gun.
#10 Hornady Custom 10mm Auto Ammo 155 Grain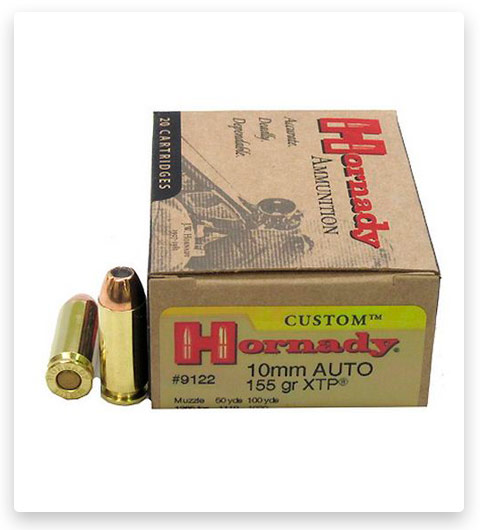 The great thing about Hornady Custom ammo is the choice of bullets they offer. Depending on the calibre, you can get your hands on different bullet types, each designed for specific purposes. From reliable penetration with ammo to controlled expansion with XTP, they've got it all covered. Hornady takes pride in producing most of the brass used in their Custom pistol ammo. But that's not all. Even the brass they select from other sources undergoes rigorous scrutiny to ensure it meets their high standards. It's all about reliability, corrosion resistance, hardness, and the ability to withstand maximum chamber pressures. You know how essential it is to have a consistent performance from your ammo. Hornady Custom Ammo takes this seriously by matching powders in each cartridge to ensure optimal pressure, velocity, and consistency across different lots. Plus, each primer is carefully selected to ignite the powder charge quickly, completely, and reliably.
#11 Federal Premium Centerfire Handgun 10mm Auto Ammo 200 grain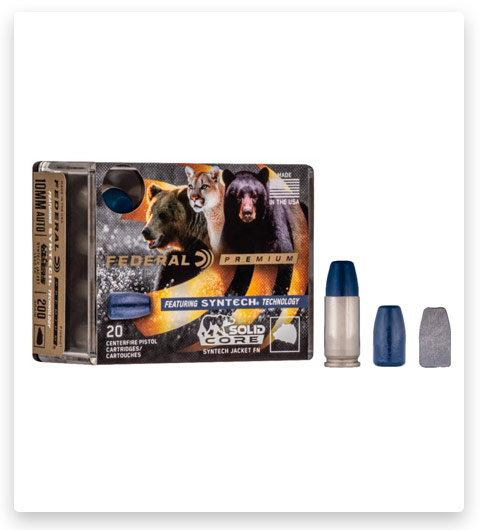 These bullets are built tough with an extremely hard lead core, ensuring maximum penetration and impact on heavy game. When you're facing bears or hogs, you want bullets that can handle the challenge, and these deliver. As a result of using this product, we found that еhe innovative Syntech jacket is a game-changer. It not only reduces friction but also eliminates lead fouling from the barrel, which can be a real hassle. The best part? No need for costly features like wax rings and gas checks, making it a practical choice. When it comes to aggressive bears and other dangerous creatures, having powerful protection is paramount. These deep-penetrating bullets offer the stopping power needed to take on such threats with confidence.
#12 Liberty Civil Defense 10mm Auto Ammo 60 grain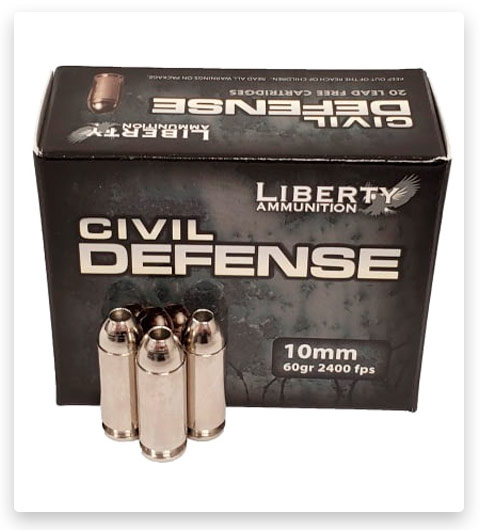 Liberty Ammunition's Civil Defense ammo proves to be a formidable option for self-defence purposes. Its innovative design, lead-free composition, and remarkable terminal effects make it a top choice for personal safety and home defence. While it might not be the most budget-friendly option out there, its performance and reliability justify the investment for those seeking superior stopping power and reduced recoil. Overall, this ammo is a solid contender in the realm of high-performance self-defence rounds.
#13 Federal Premium Centerfire Handgun 10mm Auto Ammo 180 grain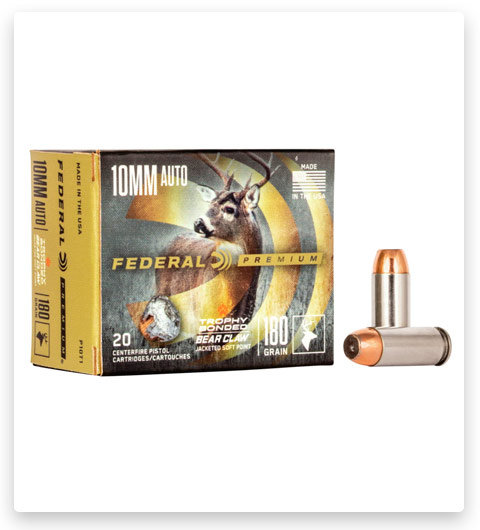 The full-power 10mm load is a real powerhouse! Its robust bullet construction stands tall against bone and resilient tissue, making it a formidable choice for demanding situations. A standout feature is the bonded jacket-core design. This ensures exceptional weight retention and allows the round to achieve remarkable penetration levels, leaving no room for disappointment. When it comes to precision shooting, this 10mm load hits the mark! Its outstanding accuracy offers shooters the confidence to take those crucial shots with precision and finesse. Count on consistent expansion with this ammunition! The nose design excels in delivering reliable expansion, maximizing stopping power when it matters most. While it's not without its considerations, the benefits it brings make it a compelling option for those who value purpose-driven ammunition. Happy shooting, and may your aim be ever true!
#14 Winchester SUPER-X HANDGUN 10mm Auto Ammo 175 grain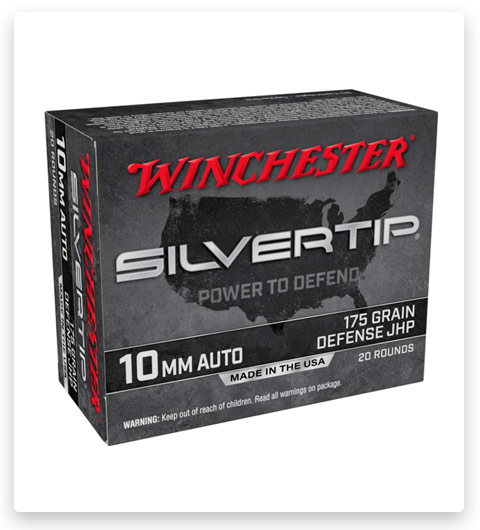 The Winchester Handgun Ammo boasts a precisely formed jacket that ensures consistent expansion with every shot. No need to worry about malfunctions or misfires – this ammunition delivers reliability when you need it most. Count on it to perform consistently, providing you with the peace of mind you deserve in critical situations. Accuracy is the name of the game, and this ammunition doesn't disappoint. With each shot, you can expect a consistent muzzle velocity, ensuring your aim stays true. Whether you're out in the field or at the range, you can confidently bring down threats with precision and efficiency. It proves to be a reliable and potent choice for self-defence purposes. Its incredible stopping power, consistent expansion, and reliable functioning make it a worthy companion in uncertain situations. Coupled with its unwavering accuracy, you can trust this ammunition to stand by your side when it matters most.
#15 Winchester DEFENDER 10mm Auto Ammo 180 grain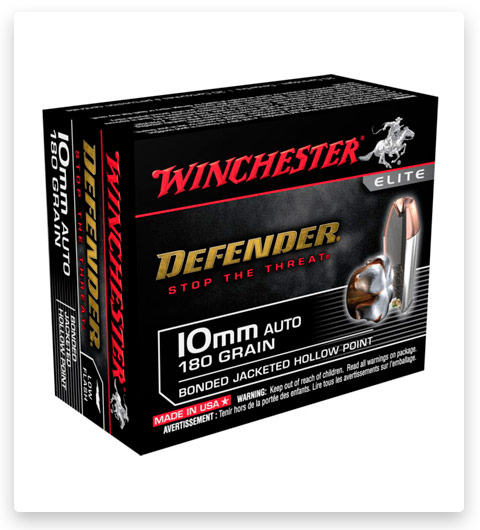 Today, our team is thrilled to present an in-depth review of the Hollow Point Ammunition, a round that promises maximum stopping power when it counts. We've meticulously examined its features and performance to bring you a comprehensive overview. One of the standout features of the Hollow Point Ammunition is its impressive expansion capability. Upon impact, the bullet expands up to 1.5 times its original diameter. This significant expansion enhances it's stopping power, delivering superior performance in critical situations. Count on this ammunition to make a decisive impact when it matters most. The proprietary bonding process employed in this ammunition welds the jacket to the lead core seamlessly. The result is twofold – improved penetration capabilities and enhanced weight retention. This combination ensures the bullet can penetrate effectively while retaining its weight, making it a formidable choice for challenging targets.
#16 Speer Gold Dot 10mm Auto Ammo 200 grain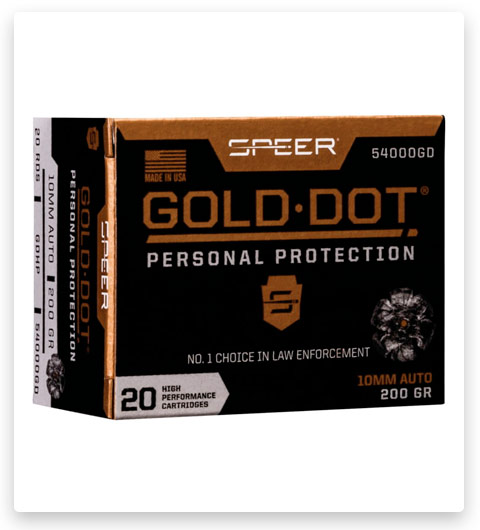 The Speer Gold Dot ammo impresses with its top-notch construction and performance. It offers reliable self-defence capabilities, ensuring you can confidently rely on it in critical situations. However, considering factors such as cost and availability is essential before making a purchase. Whether you're venturing out at night or seeking the reassurance of home defence, these Speer rounds can be confidently loaded in various situations, offering peace of mind and adaptability. The 10mm gold dot Ammo offers a satisfying heft and reduced recoil, making it easier to handle during extended shooting sessions. This factor is particularly beneficial for those looking to practice and improve their shooting skills.
#17 Remington UMC Handgun 10mm Auto Ammo 180 Grain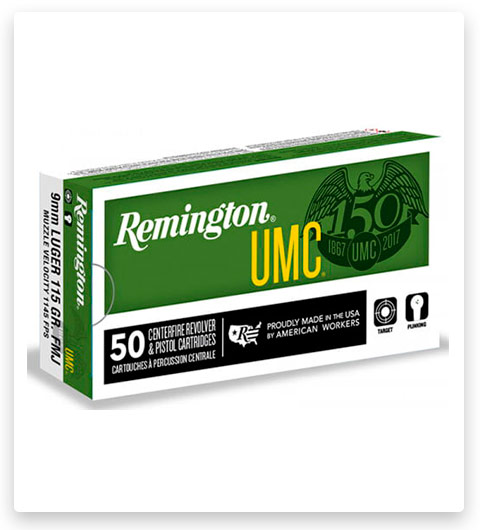 Welcome to our review of Remington UMC Centerfire Handgun Ammunition. Our team has thoroughly examined this ammunition and is excited to share our insights. If you find yourself in high-volume shooting situations, this product might pique your interest. We've assessed its performance, reliability, and overall value to help you make an informed decision. This product offers great value without compromising on performance or quality. It provides a cost-effective solution for shooters who engage in frequent target practice or high-volume shooting activities. It stands as a cost-effective and reliable choice for shooters involved in high-volume shooting activities. Its waterproofing and nickel-plated cases add to the ammunition's dependability, while the reduced muzzle flash enhances shooting visibility.
#18 Barnes Vor-Tx 10mm Auto Ammo 155 grain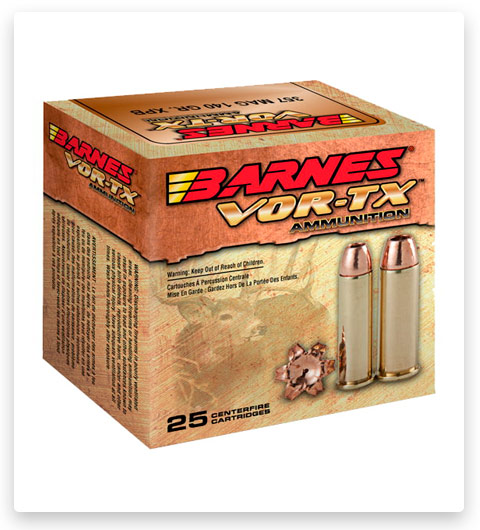 Welcome to our review of Barnes Vor-Tx ammo. Our team had the opportunity to test these 10mm auto loads, and we're excited to share our observations. Designed to complement today's high-performance handguns, this ammunition promises accuracy and expansion, making it suitable for both range practice and hunting pursuits. It is equally adept at the range or during hunting trips, these 10mm auto loads offer a versatile solution for shooters who want consistent results in various shooting scenarios. From practice sessions to hunting coyotes, it's designed to handle diverse situations. This product lives up to its reputation for accuracy and expansion, making it a solid choice for high-performance handguns. Its versatility allows for use on the range and during hunting, while the WhisperFlex feed ensures smooth operation.
#19 Federal Premium Centerfire Handgun 10mm Ammo 200 grain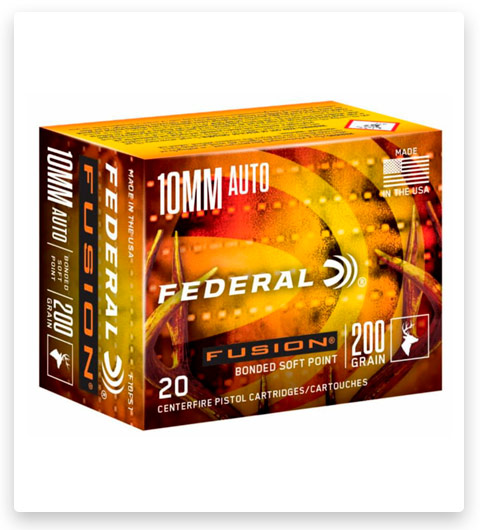 Welcome to our review of Federal Copper Jacketed Ammunition. Our team has thoroughly examined this ammunition and is excited to share our insights. The manufacturing process of this ammunition includes the electrochemical application of a copper jacket to the core, resulting in a perfectly uniform jacket. Additionally, the skived, pre-programmed nose ensures consistent expansion, while the design prioritizes maximum weight retention for deep penetration. However, potential buyers should be mindful of the higher cost, availability, and recoil considerations. If you seek precise and reliable performance and are willing to invest in premium ammunition, this product could be a solid choice for your shooting needs.
#20 Hornady Handgun Hunter 10mm Auto Ammo 135 Grain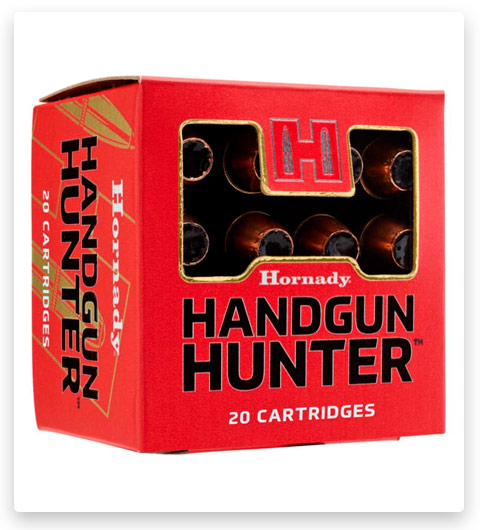 The standout feature of this ammunition is the innovative Hornady Handgun Hunter MonoFlex bullet technology, featuring a tough copper alloy that allows for deep penetration while retaining an impressive 95% of its weight for maximum impact. Additionally, the inclusion of an elastomer material in the bullet's open cavity promotes rapid expansion upon impact, further enhancing its performance in the field. The combination of premium cases, primers, and propellants completes the package, promising superior performance when it matters most.  The excellence of this product extends beyond the bullet itself. The ammunition is meticulously crafted using premium cases, primers, and propellants. These high-quality components work in harmony with the MonoFlex bullet, ensuring consistent and superior performance in the field.
Installation ⚙️
Reloading ammunition is a procedure chosen by many shooting enthusiasts, allowing for customization, cost savings, and an enhanced understanding of the ballistic performance of their ammunition.
✏️ Safety First: Always adhere to proper safety measures and wear safety gear when reloading ammunition.
When reloading 10mm Auto rounds, a precise balance of components is essential for optimal performance. The process involves depriving and resizing the spent casing, repriming, charging the case with the chosen type of gunpowder, seating the bullet, and crimping the case around the bullet.
📌 When selecting components, the bullet, primer, and powder should be chosen based on the intended use of the ammunition, whether for hunting, self-defence, or target shooting. It's crucial to adhere strictly to reloading manuals and guidelines to ensure safety and reliability.
Keep in mind, reloading ammunition requires understanding and respecting the inherent risks, and should only be undertaken by individuals with proper training and equipment. Always prioritize safety, and remember that performance can be influenced by a variety of factors, including the quality of the reloaded rounds and the shooter's skill level.
We believe this video can be helpful for you 📺
FAQ ❓
Conclusion 🔔
10mm Auto Ammo stands as a testament to the innovation and passion of firearm enthusiasts worldwide. With its incredible power, versatility, and a wide array of ammunition types, the 10mm Auto has earned its place among the elite calibres. Remember, shooting is not just about hitting a target but embracing the discipline, skill, and respect that come with handling firearms. Stay safe, respect the power you wield, and keep honing your shooting prowess. Now, go out there and embrace the raw energy of 10mm Ammo! Happy shooting, fellow marksmen!
Tags: 10mm auto ammo, 10mm auto ammo for sale, best 10mm auto hunting ammo
#Best #10mm auto #Ammo #Review #Remington #Winchester #Self #Homme #Defense #Hornady #Sale #Ballistics #Hunting
Affiliate Disclosure: Rotorm.com sometimes gets paid for listings, through sponsors or affiliate programs like Amazon, Optics Planet, Lucky Gunner, Brownells, Cabelas, Rainier Arms, 5.11 Tactical, Bass Pro Shop, etс. Clicking a link helps keep Rotorm.com free, at no extra cost to you!
About the author: Each article on our site is written by experts in survival and tactical equipment, gun enthusiasts, extreme travelers, military, law enforcement and desperate professionals, read about the author at the bottom of the article or visit "About Us" page.
Note: The views and opinions expressed in this article are those of the authors and do not necessarily reflect the official policy or position of any agency.